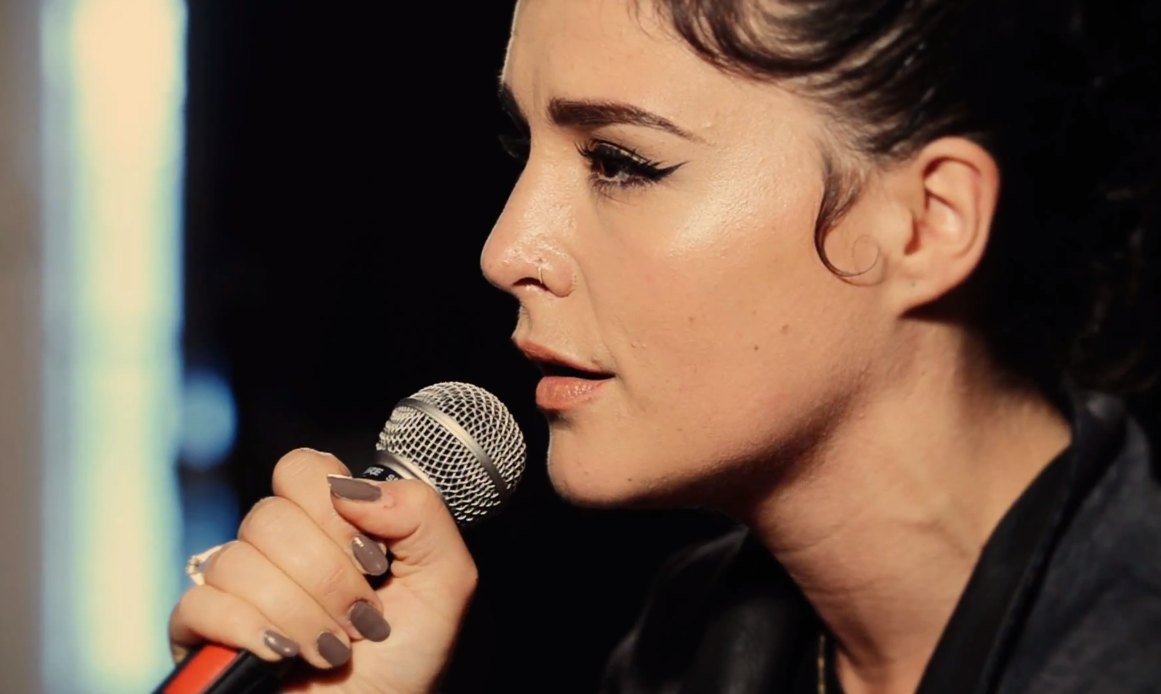 Wracam po dwutygodniowej przerwie spowodowanej koniecznością uporania się z największym wyzwaniem w dotychczasowej krótkiej karierze dziennikarskiej - moim pierwszym materiałem śledczym.
Przeczuwałem, że stres mnie zupełnie sparaliżuje, dlatego starałem się umieszczać na liście wykonawców, o których nie musiałbym dużo pisać ;) W notowaniu 164 dało o sobie jeszcze trochę znać tworzenie rankingu płyt - polecam szczególnie mocną elektronikę krakowskiej grupy
By Proxy
, nawet przy świadomości, że to raczej rzecz dla koneserów.
Passion Pit
i
Twin Shadow
fanom listy nie muszę przedstawiać - z racji nowych płyt to może być m.in. ich rok na Elektroenergii.
Salt Ashes
też już znacie - jej pierwszy oficjalny singiel
If You Let Me Go
pnie się w notowaniu Billboard Club Play!
Ogromnie cieszy powrót twórców płyty roku - Neon Romance pod nazwą Sexy Suicide. Wciąż wysoki poziom utrzymuje inspirujący się latami 60. Cheerleader z Filadelfii, a Great Good Fine OK z doskonałym skutkiem poszli w wyjątkowo taneczne klimaty. To już ich czwarty utwór na liście, biorąc pod uwagę, że niewiele więcej wydali, to świetna średnia. Idą chyba w ślady równie mało rozpoznawalnych Swiss Lips, którzy nota bene ostatnio przeprosili się ze Spotify, czyli chyba już oficjalnie wrzucili reset.
Najbardziej rockowo z nowości brzmi porównywana często z R.E.M grupa Line & Circle - najwięksi obok Real Estate i The War on Drugs ulubieńcy mojego licealnego kolegi Juliana spośród debiutantów ostatnich lat (widzę, że pojawia się on już trzeci raz na blogu, może będzie jeszcze kiedyś okazja więcej o nim napisać). Na zupełnych antypodach jej brzmienia sytuuje się...listowy debiut Calvina Harrisa (!), tyle lat po wciąż doskonałym I'm Not Alone... Ze statystycznego punktu widzenia wygląda to, jakbym wolał HAIM od Hurts, chociaż miałem na liście cover Under Control! W tym wypadku kierowała mną bardziej chwilowa potrzeba niż powalająca klasa utworu, którego klip dziwnie kojarzy mi się z metalem symfonicznym.
Jak mało miałem ostatnio czasu na selekcję nowości pokazuje fakt, że najwyższa w 164 notowaniu to utwór z 2013 roku (rzadka na Elektroenergii prezentacja holenderskiej myśli muzycznej), który w swoim czasie być może niesłusznie przyćmiły inne. Kiedy jednak powstało to zestawienie, okazało się, że zostało całkiem sporo świeżych odrzutów, aby przy ich pomocy stworzyć #165. Większość z nich zatrąca o styl, którego się tu raczej nie spodziewaliście...
Notowanie 163
01 02 03 01 Jessie Ware - Champagne Kisses
02 03 07 02 One Night Only - Get Around to It
03 07 07 03 Walk the Moon - Shut Up and Dance
04 01 06 01 XES - Starfall
05 13 04 05 Prides - I Should Know You Better
06 10 06 06 Haerts - Giving Up
07 16 02 07 As The City Rumbles Underneath - Under the Sun
08 12 04 08 Charlie Wilson - Somebody Loves You
09 06 06 01 Years & Years - King
10 05 06 01 Digitalism - Second Chance
11 14 03 11 Cygnets - Juno
12 35 03 12 Spector - All the Sad Young Men
13 19 05 13 Bryan Ferry - Loop de Li
14 17 07 14 Panda People - The Usual Place
15 21 02 15 Florence & the Machine - What Kind of Man
16 04 07 04 The Magic Dance - Starchild
17 20 06 17 Rebeka - Breath
18 NE 01 18 Great Good Fine OK - Too Hard to Handle
19 22 04 19 Let Em Riot - The Manual
20 08 07 01 Night Panther - Desire
21 27 05 21 The Go!Team - The Scene Between
22 24 03 22 Billy Idol - Save Me Now
23 09 06 09 Bertie Blackman - War of One
24 NE 01 24 Passion Pit - Lifted Up (1985)
25 28 05 25 Fire Tiger - Green Light
26 29 02 26 God Made Me Funky - So Complicated
27 33 03 27 Sameblod - Flourish
28 11 08 04 Lovestarrs - Tinsel (Christmas Song)
29 32 05 29 Toro y Moi - Empty Nesters
30 NE 01 30 Cheerleader - The Sunshine of Your Youth
31 15 08 04 Tennis - I'm Callin'
32 37 04 32 Adam Lempel & the Heartbeats - Night Life
33 39 02 33 Chelsea Lankes - Secret
34 18 05 18 Mew - Satellites
35 40 03 35 Vanbot - Trooper
36 38 04 36 Yumi Zouma - Catastrophe
37 43 02 37 Madeon feat. Passion Pit - Pay No Mind
38 NE 01 38 Calvin Harris feat. HAIM - Pray to God
39 41 03 39 The Wombats - Greek Tragedy
40 23 10 07 The Domino State - This Is Grey
41 NE 01 41 Twin Shadow - I'm Ready
42 46 02 42 Wolf Gang - Lay Your Love Down
43 48 02 43 Say Lou Lou - Nothing But a Heartbeat
44 NE 01 44 Pawws - Turnaround
45 25 09 01 Kodaline - Honest
46 26 08 06 Andy Burrows - See a Girl
47 NE 01 47 Sexy Suicide - Shame of Device
48 NE 01 48 Salt Ashes - Raided
49 30 05 16 Biernaski feat. Novika - Don't Turn the TV Off
49 34 08 13 Daniel Wilson - If You Went Away
50 31 06 31 Fair Weather Friends - Cardiac Stuff
Notowanie #164
01 02 08 01 One Night Only - Get Around to It
02 05 05 02 Prides - I Should Know You Better
03 01 04 01 Jessie Ware - Champagne Kisses
04 06 07 04 Haerts - Giving Up
05 07 03 05 As The City Rumbles Underneath - Under the Sun
06 12 04 06 Spector - All the Sad Young Men
07 03 08 03 Walk the Moon - Shut Up and Dance
08 13 06 08 Bryan Ferry - Loop de Li
09 04 07 01 XES - Starfall
10 18 02 10 Great Good Fine OK - Too Hard to Handle
11 14 08 11 Panda People - The Usual Place
12 15 03 12 Florence & the Machine - What Kind of Man
13 08 05 08 Charlie Wilson - Somebody Loves You
14 17 07 14 Rebeka - Breath
15 19 05 15 Let Em Riot - The Manual
16 09 07 01 Years & Years - King
17 24 02 17 Passion Pit - Lifted Up (1985)
18 10 07 01 Digitalism - Second Chance
19 21 06 19 The Go!Team - The Scene Between
20 22 04 20 Billy Idol - Save Me Now
21 11 04 11 Cygnets - Juno
22 25 06 22 Fire Tiger - Green Light
23 26 03 23 God Made Me Funky - So Complicated
24 30 02 24 Cheerleader - The Sunshine of Your Youth
25 27 04 25 Sameblod - Flourish
26 16 08 04 The Magic Dance - Starchild
27 32 05 27 Adam Lempel & the Heartbeats - Night Life
28 NE 01 28 Keljet feat. Avan Lava - Together
29 33 03 29 Chelsea Lankes - Secret
30 20 08 01 Night Panther - Desire
31 41 02 31 Twin Shadow - I'm Ready
32 35 04 32 Vanbot - Trooper
33 36 05 33 Yumi Zouma - Catastrophe
34 37 03 34 Madeon feat. Passion Pit - Pay No Mind
35 38 02 35 Calvin Harris feat. HAIM - Pray to God
36 39 04 36 The Wombats - Greek Tragedy
37 23 07 09 Bertie Blackman - War of One
38 NE 01 31 By Proxy - Frequency
39 47 02 39 Sexy Suicide - Shame of Device
40 42 03 40 Wolf Gang - Lay Your Love Down
41 43 03 41 Say Lou Lou - Nothing But a Heartbeat
42 48 02 42 Salt Ashes - Raided
43 NE 01 43 Line & Circle - Mesolithic
44 44 02 44 Pawws - Turnaround
45 NE 01 45 Iamamiwhoami - Blue Blue
46 28 09 04 Lovestarrs - Tinsel (Christmas Song)
47 NE 01 47 Cymbals - Talk to Me
48 NE 01 48 Furs - I Wanna Know
49 29 06 29 Toro y Moi - Empty Nesters
50 31 09 04 Tennis - I'm Callin'
50 34 06 18 Mew - Satellites